PATHWAYS TO PROGRESS SPEAKER SERIES
Buffalo, NY
The Foundation provides opportunities for women in all stages of their careers to network, learn, and grow as leaders through women empowerment speaker series.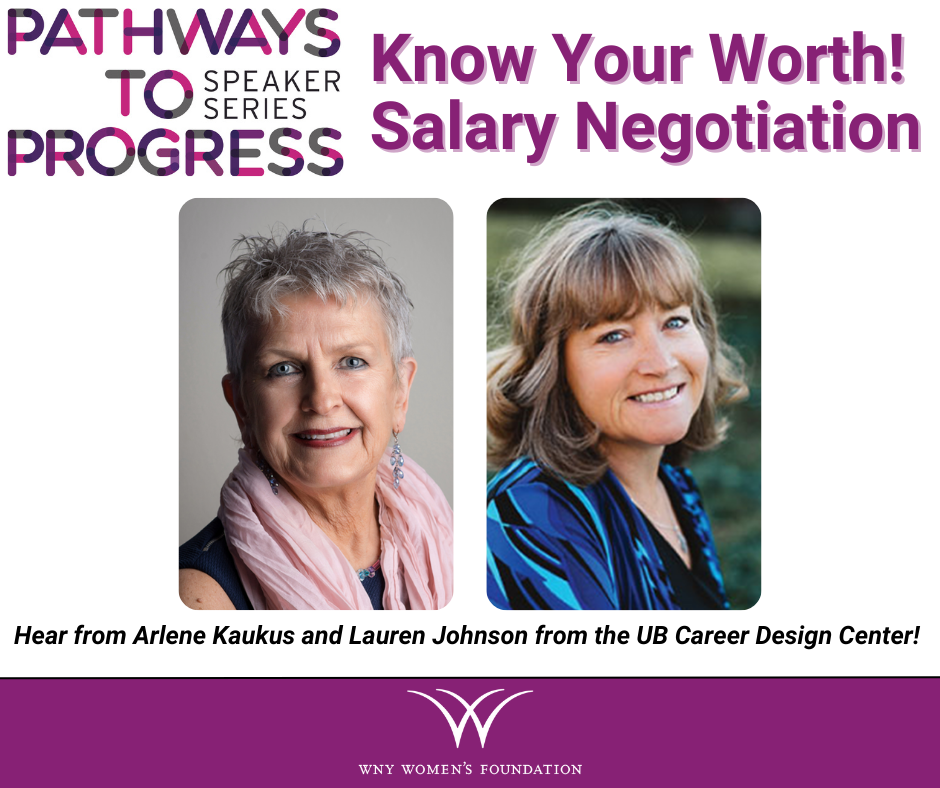 Know Your Worth! Salary Negotiation Workshop - March 14th, 4-5pm
A free virtual webinar by Arlene Kaukus and Lauren Johnson from the UB Career Design Center on how to research competitive salaries, articulate your skills, qualifications and experience, and ask for - and GET- the pay you DESERVE!
Watch Here!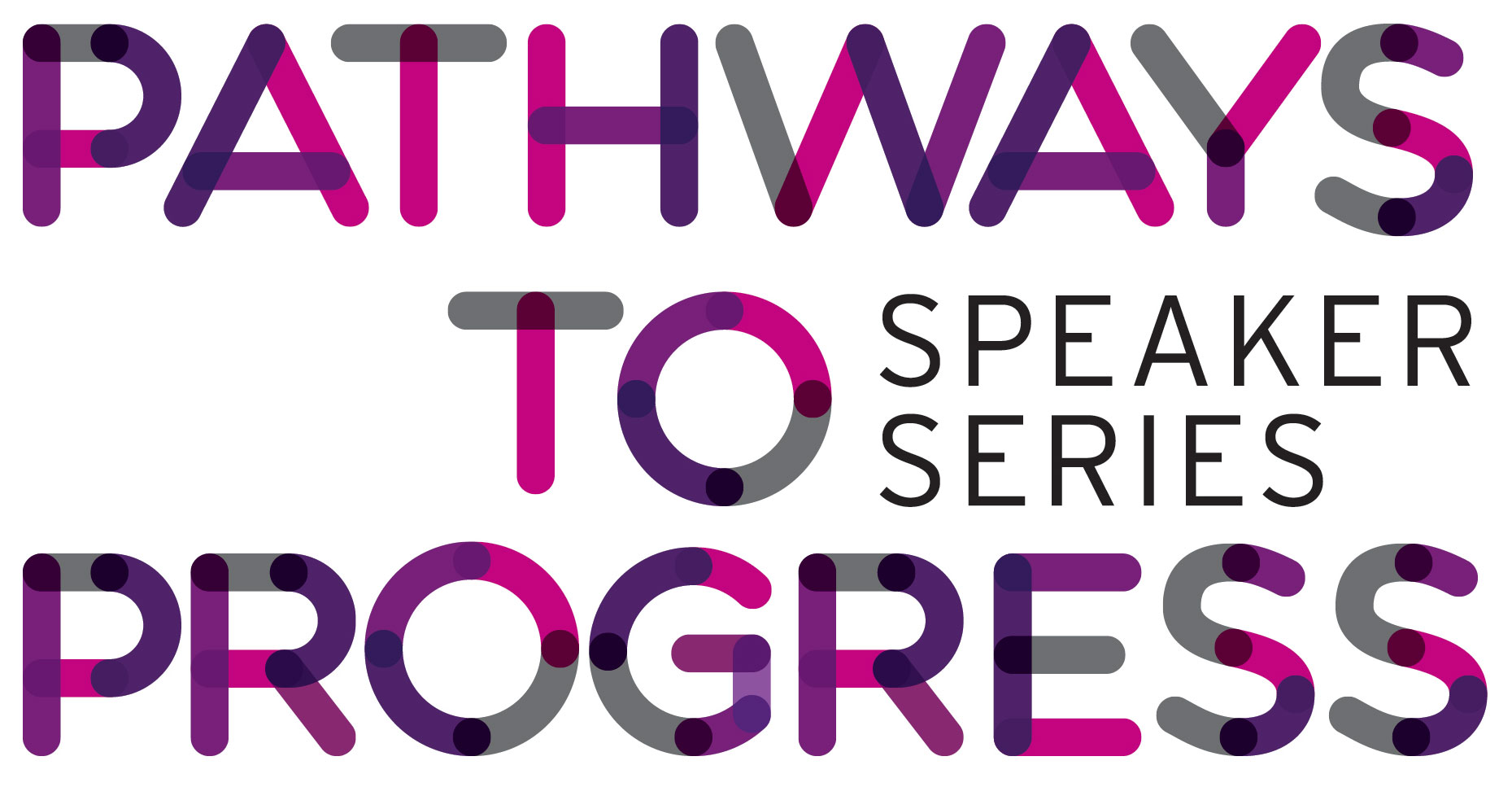 Since 2008, the Pathways to Progress Speaker Series has provided an informative platform for conversations with aspiring women leaders and change agents to inspire and motivate all women to take action. With up to 100 diverse women attending each event, the Series acts as a forum to discuss and develop action around timely issues for girls and women in WNY.

The first step to progress is having the conversation at our women empowerment speaker series.
All past 2021 webinars are available our YouTube Channel at https://bit.ly/WNYWFYouTubeChannel.

The Champion's Blueprint to Goal Setting: On June 18, 2021, the WNY Women's Foundation welcomed Morgan Williams-Bryant of MWB Ignites to discuss the importance of setting goals - any how to stick to them!

Gender & Power Dynamics in the Workplace: On May 7, 2021, the WNY Women's Foundation welcomed Dr. Maura Belliveau to talk about the systemic misogyny still facing women in the workplace. Dr. Belliveau provided concrete tips for women and male allies for how to empower and uplift women in the professional sphere.

Salary Negotiation: On April 23, 2021, the WNY Women's Foundation welcomed Michelle Plesh, Director of Human Resources at Excelsior Orthopaedics, to present her tips for interviewing, getting an offer, and negotiating for a better compensation package.

Inclusive You: On March 5, 2021, the WNY Women's Foundation welcomed Chantele Thompson, founder and principal consultant of the Complete Non-Profit Consulting Group, to discuss how we can each promote inclusion in our workplaces. Women in leadership roles can create and influence inclusivity in their workspaces-and beyond! By defining and examining the concepts of implicit (unconscious) bias and intersectionality, we can each make a big difference.
Past 2020 webinars are available on our YouTube Channel at https://bit.ly/WNYWFYouTubeChannel.

Generational Differences in the Workplace: On October 1, WNY Women's Foundation Board Member Siobhan Smith from Catapult led a lively panel discussion featuring representatives from every generation currently in the workforce. Together, we tackled common myths about generational stereotypes and provide practical insights on how to work together more effectively-especially in our new, virtual workplaces.

Elect Women: Lessons in Running for Office: On August 14, Katie Burd from Women Elect discussed the process of running for elected office and the importance of women's voices in politics.

The Art of Suffrage: Struggle, Sacrifice and Success: On August 7, Mary Brennan-Taylor, suffrage historian and avid collector, gave a special virtual tour of "The Art of Suffrage" exhibit at the Kenan Center. It took nearly 100 years of persistence and passion for women to gain the vote. Finally, in August 1920, the 19th Amendment was ratified, granting women across America the right to vote. This year, we're celebrating the centennial of this seminal achievement in women's rights-and honoring the sacrifice of the women who fought for our rights.

The Power of Your Purse: On July 17, 2020, the WNY Women's Foundation welcomed WNYWF Board Member and Branch Manager Mary Ann Coulson, Financial Advisor Salpi Doering, and Financial Advisor Ann Marie Williams of Morgan Stanley for an informative panel discussion about connecting your personal values with the decisions you make about your money, for every stage of life.

Innovating in Isolation: On June 12, 2020, Christy Francis of Fresh Batch Insights inspired attendees to build their flexibility and practice empathy with tips for innovating in isolation.

Managing Anxiety in Challenging Times: How can we manage the heightened anxiety of a pandemic? On May 29, 2020, Jenna Witkowski of the Buffalo Psychiatric Center shared her insights and practical tips for how to manage on a daily basis and feel more resilient during times of crisis.

Building Resilience During COVID-19: On May 8, 2020, Ashley Amidon and Megan Moore Supervising Counselors with Crisis Services led an informative webinar discussing emotional intelligence and resiliency, and how to balance your mental health while supporting those around you.

Mindful Meditation & Movement: On April 22, 2020, Mari Irwin of Soul Candy Project led an interactive meditation session.

Burnout Is Real! Webinar: On April 3, 2020, Aimee Neri of the UB School of Social Work presented an informative and practical webinar on how to prevent, cope, and take care of yourself to avoid burnout.
Know Your Worth! Salary Negotiation Workshop: On November 22, 2019, Arlene Kaukus, Lauren Johnson, and Holly Justice of the UB Career Services Department showed attendees how to research competitive salaries, articulate their skills, qualifications and experience, and ask for - and get - the pay they deserve.

Cover Your Assets: It IS Worth Making the Time: On July 22, 2019, Wendy Irving, Associate Vice President for Planned Giving, Office of Planned Giving Division of University Advancement, University at Buffalo; Katie Orem, Geriatrics & Palliative Care Program Manager, eMOLST Administrator, Univera Healthcare; and Kelly (Hair) O'Neill, Financial Advisor, LightHouse Financial Asset Management, LLC, Wells Fargo Advisors Financial Network, spoke to attendees about financial planning for the future, including retirement and end of life planning.

Own Your Financial Future: On Friday, April 12, 2019 Nicholle Overkamp, Founder and CEO of Wilcox Financial Group, Certified Holistic Health & Functional Medicine Coach and Melinda Yoder, Registered Dietitian taught attendees about "Money Types", how their "Money Types" may be holding them back from achieving financial goals and what they may be doing every day to impact their financial success.

Your Mind, Body & Nutrition Are Impacting Your Life. Are They Working For You? On Friday, February 22, 2019 Elaine Pauly, Certified Holistic Health & Functional Medicine Coach and Melinda Yoder, Registered Dietitian taught attendees about their mind, body & nutrition.
Ageism, The Unspoken Bias Impacting Each Stage of a Woman's Life: Held on December, 7th and presented by Ann Monroe, certified master trainer and nationally renowned expert on heath and human services.

Pathways to STEM: On Saturday, May 12, 2018 from 10:30am -12:30pm the WNY Women's Foundation, in partnership with James H. Cummings Foundation, Buffalo Community Schools Initiative, and WNY STEM, hosted a movie screening of "Code: Debugging the Gender Gap" followed by a talk back about the movie. The focus of the morning will be supporting women and girls in STEM by overcoming barriers and taking advantage of opportunities.

Pathways to School Readiness: The WNY Women's Foundation's Pathways to Progress, Vol. 2 report outlines the barriers and opportunities faced by women and girls in WNY throughout their lifetimes. "Sophia", a young girl (age Birth - 9 years old), was the focus of our discussion on March 23rd. A panel of experts discussed how we can support the "Sophias" in our community to ensure they are prepared to enter school and be successful.
Pathways to Progress, Vol. 2 Report Launch: Hosted by Mount Mercy Academy, with special keynote from Lt. Governor Kathy Hochul.

Overcoming Barriers: A Conversation with Women Who Excel in Male-Dominated Fields: Moderator: Kelly O'Neill, Lighthouse Financial Asset Management, Panelists: Julieta Ross, M&T Bank; Erica Muhleman, Pegula Sports & Entertainment; Jane Griffin, Hauptman-Woodward Medical Research Institute
Dream, Girl film screening: Watch the trailer. Followed by a conversation about female entrepreneurship facilitated by Sabina Ramsey

Barriers and Bias Research Report Release and Panel on Women in Leadership: Download the full report and watch the summary video

Reinventing Yourself in the Land of Opportunities: Sponsored by: Workforce Development Institute, Moderated By: Amber Dixon, Buffalo Center for Arts and Technology and Panelists: Shandra Spicer, Spicer Group; Liz Callahan, Buffalo Niagara Partnership; Colleen Heidinger, 43North